Show Jumping Medieval - blue Medieval - red
(All images here are shown in large size though sizes vary - see below)
NEW
Race Calico Unicorn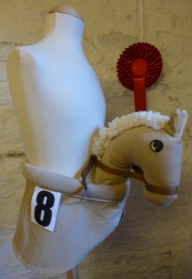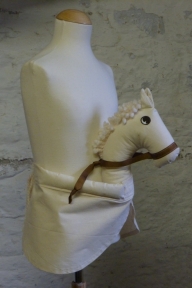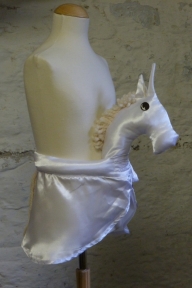 Product information
My HorseTM is designed to be and must be worn snugly (without gaps) around the waist of the wearer as shown in the photos above and is adjustable to allow this. It must not be worn on any part of the body other than the waist. My HorseTM is available in three styles as shown above and three sizes - small, medium and large (see below for size specifications).
A miniature version of the show jumping horse (Mini My Horse) is available and is intended for use on a doll or stuffed toy with a waist measurement of approximately 14in(35cm).
Sizes
Small (ages 3-5, waist 17-21in/43-53cm). Dimensions with product laid flat: 19in/48cm x 16in/41cm)
Medium (ages 6-9, waist 21-28in/53-71cm). Dimensions with product laid flat:20in/51cm x 19in/48cm)
Large (ages 10+, waist 29-36in/73-91cm). Dimensions with product laid flat:23in/58cm x 22in/56cm)
Further information
It is hand washable and its hook and loop closure makes it adjustable at the waist.
It has passed safety testing to British and European toy standards BSEN71 Parts 1, 2 and 3 (mechanical properties, toxicity and flammability)
Related products
Products related to the My HorseTM horses will be introduced from time to time. New in 2015: Felt Knight's costume helmet, Roman Centurian helmet, Jockey jacket, Jockey costume helmet. Note: the Jockey costume helmet is not a rigid safety helmet but rather a soft costume helmet, so is not suitable for protective wear whilst riding real horses.